Creating 'What the Dickens?'
In October 2023 music/theatre group The Telling are bringing their brand-new original show What the Dickens? to The Coro. We asked playwright and singer, Clare Norburn, to tell us more about the creative process behind it.
The Concept
"In What the Dickens? I have reimagined Charles Dickens' classic A Christmas Carol, taking inspiration from the secrets of Dickens' life: his secret mistress, his terrible treatment of his wife and his early life as a boy working in a factory which made shoe blacking, of which he was deeply ashamed. I have also drawn on how unwell and febrile he was in his final years: he put so much energy into his theatrical readings that he would often collapse afterwards in the wings. So I have used all those elements to overlay the familiar story we all know of A Christmas Carol, with Dickens himself being forced to re-evaluate his life and the impact of his actions."
It is Charles Dickens' last Christmas Eve. 1869. He is not well. His doctor has warned him against giving his extremely popular theatrical readings, which included The Death of Nancy and A Christmas Carol. Dickens put so much energy into these readings that at the end he often collapsed in the wings. He is too weak, but still he goes ahead with his final popular theatrical reading in front of a live audience.
But nothing goes as planned. The reading is hijacked: musicians turn up and Dickens finds his own real life experiences strangely entangled with Scrooge's. He is no longer in control and instead of the ghosts which he wrote about, he is 'haunted' and taken on the journey of his own past, present and future by his wife Catherine (as the ghost of Christmas past), his mistress Ellen (Nelly) Ternan (as the ghost of Christmas present) and the mysterious ghost of Christmas Yet to Come. They strip aside Dickens' jovial public family image he has tried to maintain and force him to re-evaluate how his actions have affected other people.
Following the trajectory and structure of A Christmas Carol, Dickens is on a quest for his soul. Can he examine his life, learn from the ghosts, repent and be saved, as Scrooge was saved?
Writer Clare Norburn explains, "All writers pour a little of themselves into their characters and there is certainly a bit of Scrooge in Dickens – or Dickens in Scrooge. For example, Scrooge as a boy loves Ali Baba of The Arabian Nights. Dickens took refuge from his miserable childhood in reading, and The Arabian Nights was a particular favourite."
What the Dickens? aims to empower and give a voice to the women in Dickens' life who were denied an opportunity to give their side of the story at the time. The show may be set in the Victorian past, but like all of Clare Norburn's work, it speaks for today, for women, and in this show, for victims of celebrities. It is also great fun!
"The story of Charles Dickens is the story of a man who has a public image, and a private life which is at odds with that public image which is very relevant to today," Norburn continues. "Sadly, there are many contemporary resonances: the context of #MeToo and recent news stories of celebrities such as Huw Edwards and Philip Schofield. Dickens would never have got away with keeping a mistress and treating his wife so appallingly today."
The Music
"I'm having fun putting together the music with the amazing theatre composer and arranger Steve Edis, who has worked closely with Sir Trevor Nunn, including during his time as Artistic Director at the National Theatre around the turn of the millennium.
Steve and I have been sourcing music that we know Dickens knew, sang, and played on the accordion. Much of that music is actually surprisingly backward-looking and not a million miles from The Telling's core repertoire of medieval and early music. Most of the music we tend to think of as Victorian popular song is actually from the last two decades of the 19th Century, but much of the music Dickens knew and loved is from the previous centuries. Much of it speaks directly from the heart such as the popular Thomas Moore's Irish Melodies which were a big hit in the first half of the 19th Century – the most famous example perhaps being 'The Last Rose of Summer' which we are playing with as the soundtrack for our teaser trailer.
Steve is reimagining and arranging the music, and we have decided on a sound world that hints of the past – with harp and fiddle – but also is more modern. We simply had to run with the fact that Dickens played 'Home, Sweet Home' on the accordion for example…  There are some medieval and traditional carols too. Dance music of the period dates back to the 16th or 17th centuries: eg the Playford collection of dances which straddles the early music/folk divide and which Dickens cites directly in A Christmas Carol (the Playford melody Sir Roger de Coverley is the fiddle tune that young Scrooge and his fellow workmates dance to at Fezziwig's dance, for example).  We've also found some brilliant Victorian ballads and popular songs which are apt for the story. One is the beautiful and simple 'I Dreamt that I dwelt in Marble Halls' which featured in the 1840s opera The Bohemian Girl.
There are several songs which we know Dickens sang as a child, standing on a tavern table and performing in family theatricals with his musical sister Fanny (who studied at the Royal Academy of Music) and friends. One example is the 18th-century anonymous song 'Begone, Dull Care', which we know the boy Dickens heard from his garret in Bayham Street, Camden Town when he first arrived in London from Kent. The song wafted across what were then fields from the famous Old Mother Red Cap Gardens. Later in life, Dickens parodied the song in family theatricals, changing the title to 'Begone, Dull Mike'!
Steve will score for singers and three multi-musicians: The Telling regular, Joy Smith (harps and percussion) will take part, plus we will be joined by an accordionist/actor and a violinist/actor who will introduce to you all in good time. We want to recreate the sound world of Dickens' childhood and life but update that sound so it is distorted and reimagined. We want to use carols – in reference to Dickens' title: A Christmas Carol. We also want to create a sound world that represents Dickens' tragic childhood: as a boy, he was forced to work in a blacking factory rather than continue his schooling, while his family were thrown into the debtors' prison, The Marshalsea: the setting of his novel Little Dorrit. This is just one of many ways Dickens used his personal experiences in his childhood and transformed them into authentic experiences for the characters in his novels.
I hope this whets your appetite and we can't wait to share the show and its music with you!"
More about this event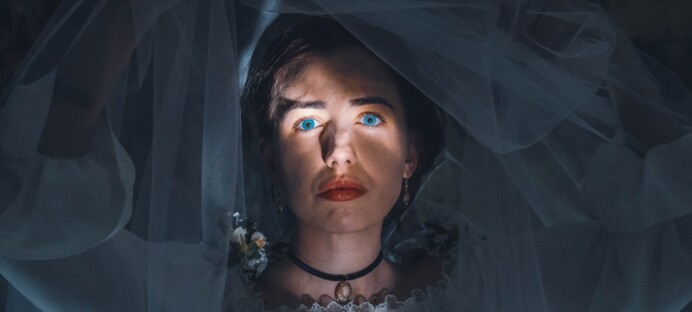 The life of Charles Dickens becomes strangely entangled with that of his famous character Scrooge in this brand-new piece of theatre soundtracked by colourful Victorian popular songs and street music, haunting old carols and lively folk dance music.