Printfest presents
Tetra PAK workshop with Cathryn Beckett
Learn how to use Tetra PAK containers to produce original limited edition prints in this half-day workshop with Tetra PAK expert Cathryn Beckett.
Date & Time

Location

The Coro Ante Room
Prices

Standard: £35
Students: £25

Prices inclusive of £1 booking fee

Coro Members don't pay booking fees
Additional details

Age guidance: 14+

Suitable for beginners

Doors open at 12:45pm
The layers of foil, polyethylene and paperboard in Tetra Pak make it a versatile and satisfying material to work with. By cutting, peeling and scoring you can easily achieve some lovely printing effects. It is also a great way to recycle milk, juice and soup cartons. There will be a range of reference materials on hand to help inspire you, or feel free to bring your own images to work from. Note that printing plates will be created as a mirror image of your final print, particularly key if you plan to incorporate text. Don't worry, help will be on hand!
What you will learn
Creating your design
Ideas for incorporating Tetra Pak characteristics
Cutting, scoring and peeling methods
Preparing paper for printing
Inking your plate
Printing with a press and hand burnishing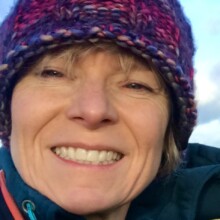 Meet your tutor: Cathryn Beckett
Cathryn's work is inspired by her love of nature, fell running in the mountains, her home in the beautiful Eden Valley, and travels further afield. She uses a range of media, but it is printmaking she fell in love with, working at the kitchen table with a wooden spoon for hand burnishing, whilst juggling a busy career and family life. Cathryn later went on to study Art & Experimental Printmaking and now focusses primarily on relief, intaglio and collagraph methods. She especially loves the challenge and process of reduction printing; building up layers of colour using a single block, for creating truly limited edition prints. Cathryn teaches printmaking to small groups in her home studio, Brightside Barn, adopting a friendly, supportive and personal approach. See more at brightsidebarn.co.uk. Cathryn Beckett is a member of Cumbria Printmakers.