Printfest presents
Paper lithography workshop with Penny Hunt
Discover how to create images by inking black and white photocopies in this half-day workshop with paper lithography expert Penny Hunt.
Date & Time

Location

The Coro Ante Room
Prices

Standard: £35
Students: £25

Prices inclusive of £1 booking fee

Coro Members don't pay booking fees
Additional details

Age guidance: 14+

Doors open at 8:45am
These can be photocopies of your own sketches or photos, or could be taken from a variety of patterns and images provided. Paper lithography makes a great base for working over or keeping as a print in its own right. If you bring your own sketches or photos to use, make sure they are black and white and have been photocopied, not printed out. The Xerox photocopier ink is how we print, as printers attached to your computer networks use different inks. Old family photos work well, the simpler the image the better. Make sure there is as little grey tone as possible, a clear, simple black and white image will work best.
What you will learn
How to select appropriate images
How to use a variety of images for a composition
How to ink your images
How to print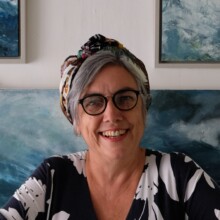 Meet your tutor: Penny Hunt
Penny's studio gives windswept views to inspire. She is drawn to water, painting directly by the side of waterfalls or on the shoreline seaweed. Sand and spray are windblown into the work creating texture and atmosphere. Back in the studio these are worked into printing plates from memories and sketches, never photographs, which remove the immediacy of the feel of the place. Her Fine Art degree, MA and many years teaching (currently in the Print room at the Brewery Arts Centre) helped develop her paintings and printmaking, each material feeds back into the other, the layering, overprinting and intaglio techniques are present in all. See more at www.penny-hunt.co.uk. Penny Hunt is a member of Cumbria Printmakers.